Arbeiten (Auswahl)



2015
2014
2013
2012
2011
2010
2009

Vinyl Culture, München
Embedded Art. AdK Berlin

2006-2008
2003-2005

Das Kunst oder Unfall Büro, Wien
Artworks: Stereo Action Club. Temporary Club / Installation
sonambiente berlin 2006 festival für hören und sehen klang kunst sound art, Haus der Berliner Festspiele, Berlin 2006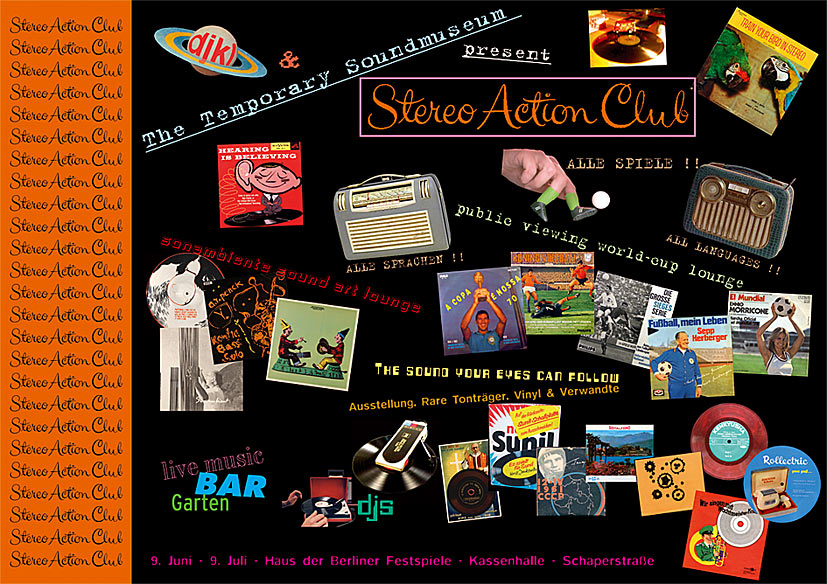 During the world cup Kalle Laar opened his temporary Stereo Action Club at the Haus der Berliner Festspiele. While showing all the world cup games in different languages on a large screen using live radio commentaries from all over the world replacing the original german TV-commentary it also included an installation displaying various vinyl and related objects and turntables. Before, between and after the games Laar created a programm taking advantage of his unusual record collection and inviting friends, djs, artists and writers to form a series of events sometimes quite unpredictable in character.
Frieder Butzmann came up with an instant quiz show, the winners took away postcards autographed by the late german coach Helmut Schön. Maschek from Austria commented Angola - Portugal applying their own special austrian soccer rules, according to them Angola won 96:74. The wonderful chef Gordon W created a great meal with unprecedented tastes while Argentina beat the Ivory Coast.
Also invited were representatives of Germany's three best record stores, Christos Davidopoulos from Echt Optimal, Munich, Georg Odijk from a-musik, Cologne and Ursula Block, gelbe Musik, Berlin. Ursula Block surprised us all with an adventurous set mixing gems of her personal collection of rare avantgarde music with some latest hip-hop ('my son just gave me that cd') and Tzadik j-pop while Georg Odijk managed to sell half of his records on the spot (he brought only singles).
Other artists included Christoph Cargnelli (8-channel installation audiodrome) and Lillevän making life easier after the final. One of the highlights was provided by the team of the soccer fanzine Der tödliche Pass (The deadly pass) with a performance not only using electronics but with a lot of soccer related and sometimes amplified toys.
Joachim Kühn, director of the Filmhaus Köln, joined in also on the non soccer day concerts of Kunst oder Unfall and the newly created performance team of Robert Ashley specialist Jonathan Fuhr and djkl aka Kalle Laar. Their duo (sometimes joined by Augusta Laar) interpreted texts and compositions by Ashley creating some new openings in this context.
---
Go to the soundmuseum
program page
of the Stereo Action Club (with artists links)
Go to the sonambiente
website
Go to the sonambiente Kalle Laar artist page
german
english
Go to the Stereo Action Club picture
gallery
Go to the press articles
Sueddeutsche Zeitung
taz
Berliner Morgenpost
---